Our outdoor rock fireplace and expanded seating area make
Trails West Retreat the perfect spot for that
weekend getaway or a special gathering!
~
We can accommodate up to 30-40 overnight guests and
up to 125 day guests.
~
For reservations or more information call us at
979-278-3409 or
email Trails West Retreat
~
We accept cash, personal check or money order. We do not take credit cards although
reservations can be held with a credit card for 7 days, but
You do not have a firm reservation until
we receive your deposit and signed reservation form!
Please, no check-ins after 8 PM unless prior arrangements are made. If you know that you will be
later, please call us. It is pretty dark out in this rural area and we may be hard to find after dark.
Our office is located in our Lodge at 10770 Mayer Cemetery Rd, Burton, TX 77835.
~~
We are Kid & Pet Friendly!
~~~~~~~~~~~~~~~~~~~~~
Trails West Retreat Offers Free WIFI!
**Accepting three night+ reservations only for Spring 2014 Antique festival until January 1, 2014. Two nights can be put on a waiting list. Sorry no one night reservations accepted during antique festivals.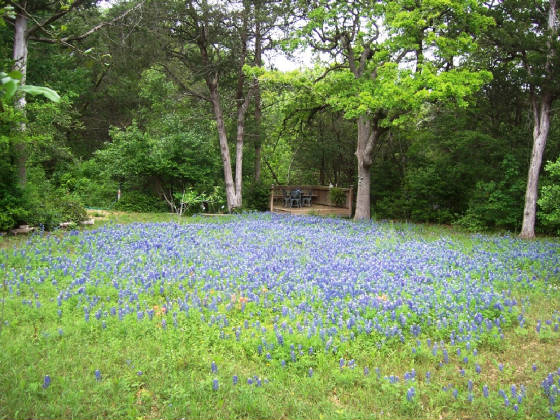 Waterfall overlook deck--a pretty place for a wedding
Click here to review our Policies & Rules
We do not provide daily housekeeping services.
~~~~~~
All indoor facilities are smoke free
~~~~~~~~~~~~~~~
Entry to Trails West Retreat at 10900 Mayer Cemetery Road
Our First Cozy Cabin
1 Twin & 1 Full bed, private shower bath, large deck
Nearest to creek & bridge ($69-119 per night).
Great view!
Our largest cabin
Private queen bedroom, futon, full bath and kitchenette ($99-139 per night).
Features a front porch and a rear deck, one large room with queen bed and futon,
private shower bath and kitchenette ($89-129 per night).
CEDAR COUNTRY COTTAGE DORM - Full kitchen and living room with large dormitory style bedroom upstairs ($145-250).
LONE OAK ROOM-
King bed, sofa, full bath ($119 - $149) may be leased in conjunction w/ Country Cottage Dorm