Our outdoor rock fireplace and expanded seating area make
Trails West Retreat the perfect spot for that
weekend getaway or a special gathering!
~
We can accommodate up to 30-40 overnight guests and
up to 125 day guests.
~
For reservations or more information call us at
979-278-3409 or
email Trails West Retreat
~
We accept cash, personal check or Paypal (3% processing fee applies).
Reservations can be held with a credit card for 7 days, but
You do not have a firm reservation until
we receive your deposit and signed reservation form!
No check-ins after 7PM during Antique shows please unless prior arrangements are made.
~~
We are Kid & Pet Friendly!
~~~~~~~~~~~~~~~~~~~~~
Trails West Retreat Offers Free WIFI!
Email Trails West Retreat bettystrails@yahoo.com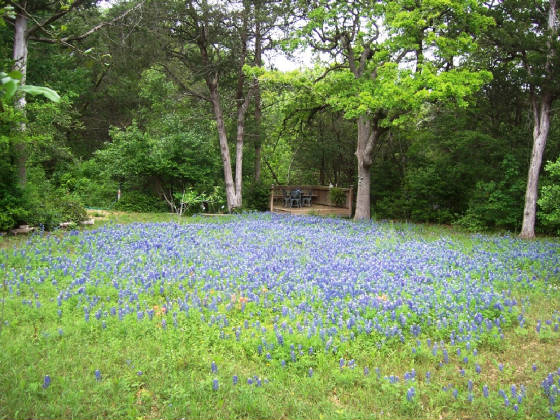 EMAIL TRAILS WEST RETREAT HERE!
Click here to review our Policies & Rules
We do not provide daily housekeeping services.
~~~~~~
Trails West Retreat offers Free WIFI
~~~
All indoor facilities are smoke free
~~~~~~~~~~~~~~~
Entry to Trails West Retreat at 10900 Mayer Cemetery Road
Our First Cozy Cabin
1 Twin & 1 Full bed, private shower bath, large deck
Nearest to creek & bridge ($69-119 per night).
Great view!
Our largest cabin
Private queen bedroom, futon, full bath and kitchenette ($99-139 per night).
Features a front porch and a rear deck, one large room with queen bed and futon,
private shower bath and kitchenette ($89-129 per night).
CEDAR COUNTRY COTTAGE DORM - Full kitchen and living room with large dormitory style bedroom upstairs ($145-250).
LONE OAK ROOM-
King bed, sofa, full bath ($119 - $149) may be leased in conjunction w/ Country Cottage Dorm
EAGLE'S NEST LODGE located north of the cabins and across the creek at
10770 Mayer Cemetery Rd at the corner of Muske-Ullrich-
Downstairs Meeting Facility for smaller groups desiring air-conditioned comfort.
Great also for small parties, showers or a small wedding.
There are three upstairs rooms each with a view.
All rooms have complimentary continental deluxe breakfast.
Eagle's Room
features a king bed, two twins, private shower bath.
Blue Jay Room has an antique twin poster bed, antique double poster bed,
& assigned clawfoot tub bath with shower.
Cardinal Room
has a queen bed, twin & private shower bath.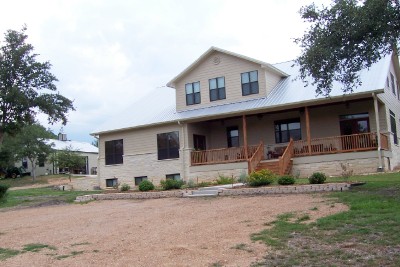 Looking at Eagle's Nest Lodge from the entrance on Mayer Cemetery Road
10770 Mayer Cemetery Road
~~~
Eagle's Nest Lodge Bed & Breakfast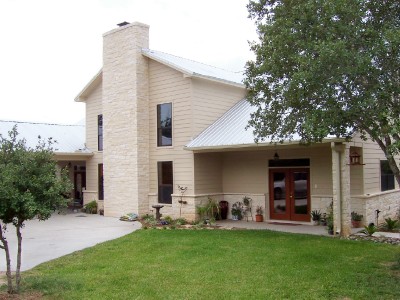 Looking at Eagle's Nest Lodge from Muske Ullrich Road Entrance
Drive goes all the way through to Mayer Cemetery
~~~
Kitchen of Pavilion has serving bar
Pavilion Kitchen
~~~
PARTY PAVILION
- Covered open-air facility with picnic tables, a bar, serving bar, barbeque grill, ceiling fans, and a chiminea. Inside there is a full kitchen, large men's and women's bathrooms, each with a shower.
Tables to seat 60 or more.
There is also a queen sleeper sofa and cot available in conjunction w/ large group rentals.
Call for pricing.
~~~
MOTORHOME SPACES
- We have a very limited number of spaces for motorhomes & travel trailers where we can provide water and electricity.
Both tent and motorhome/camper spaces are offered in conjunction with cabin rental for our guests ($35 normal, $40 Antique festivals).
~~~
TENT SITE: We have one "primitive" tent site with convenient outdoor toliet adjoining campsite. There is water available at the site, a grill and firepit. Tent site only is $25 for two people + $10 per person extra. If tent site is desired in conjunction with SMALL travel trailer or popup camper, the price is $45. If electricity is desired for trailer, please add $5 per day. Tent sites in conjunction with cabin rentals are $20 per day plus tax.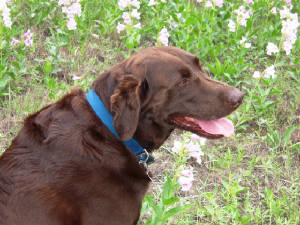 Max the official guest greeter at Trails West Retreat
** Call for special weekly rates!! **
**Ask about our special welcome packages. We can supply fresh flowers, wine and cheese as a gift for that special occasion. In the past, children have treated their parents with a stay at Trails West Retreat as an anniversary gift. We can add an optional breakfast at the Lodge to the package if desired but arrangements must be made in advance.
-------------------------------------------------------------
The Round Top Area - so much to see and do!! Most people are not aware of the world class concerts and beautiful setting at Festival Hill at Round Top or the History behind the University of Texas owned Winedale Shakespeare Theatre in our back yard. Round Top is rapidly becoming a mecca for artists and craftsmen also. The ORIGINAL Blue Bell Ice Cream factory is in nearby Brenham. Several new wineries have opened up and of course there are antique shops galore.
Round Top Chamber of Commerce
Washington County Chamber of Commerce
History of Winedale Texas
Shakespeare Plays at UT Winedale
Kids have fun at Horseshoe Junction Brenham
Our Neighbors SNOW FARM DISC GOLF
Fayetteville Texas Pickin' Park Bluegrass Festival
FESTIVAL HILL--Symphony orchestras, ballets, plays, poetry seminars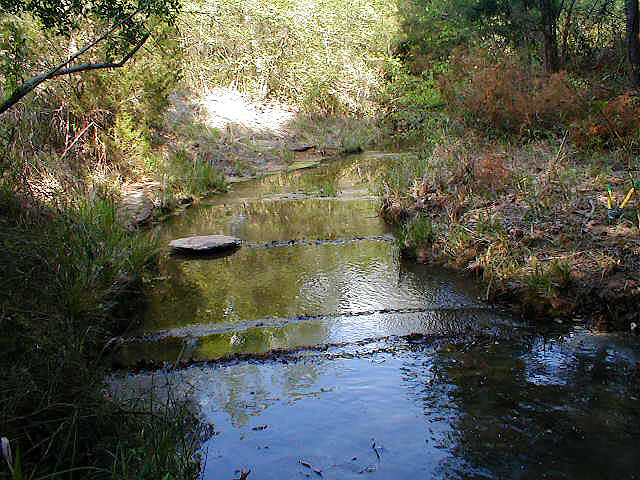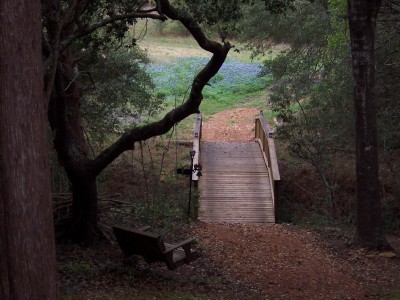 Are you aware that Round Top has world class concerts at our renowned Festival Hill? If you have not explored this wonderful asset to our community, you owe it to yourself to visit this school for talented musicians. It compares to the best in the world. You'll find beautiful gardens and an unbelievably elegant concert hall.
~~~
A Few Pointers for your Trails West Retreat getaway
Trails West Retreat is in a wonderful parklike country setting 1 mile from Winedale near Round Top, Texas. We are not a hotel or a bed and breakfast except for guests who stay at our Lodge. Our guests do their own cooking and housekeeping. We do not offer daily maid service. We furnish linens, dishes and cooking utensils. Please bring your own charcoal if you plan to use grills. Campfires are allowed except when a burn ban is in effect, however cooking fires in grills are still allowed. The nearest larger grocery store is in Brenham, Giddings or LaGrange so be sure to stock up on drinks and goodies before arriving.
Making a reservation to stay at Trails West Retreat constitutes an agreement to the Trails West Retreat Rules and Waiver of Liablity posted on this website. We have a 2 day minimum for Antique Festivals. Please review our policies before making your reservation by clicking on THE RULES at the bottom of this page. We will hold with a credit card but expect payment in cash or check. We can make payment arrangements through PayPal.
TRAILS WEST RETREAT
10900 Mayer Cemetary Road
Burton, TX 77835
~~
Right in the middle of things - where Fayette, Washington and Austin Counties meet.
Only 10 minutes to Round Top!
By Reservation Only
~~
Owned and Operated by: Betty & Del Meischen
~
For reservations call 979-278-3409
(Alternate in case of emergency Del's cell 979-877-4852)
~
Email: bettystrails@yahoo.com
~~~~~~~
RELAX & ENJOY!
GET BACK TO NATURE!
COME SEE US SOON!
~~~~~~~~~~~~~~~~~~~~~~~~~~~~~~~~~~~~~~~~~~~~~~~
If you have been to this area before
and fallen in love yet with our beautiful
rural countryside surrounding Round Top,
then contact Betty to help you with purchasing a little piece of heaven!
Betty Meischen owner of Trails West Retreat is a Realtor with Round Top Real Estate!
Betty can help you find that special country place of your dreams.